Sorry, We're currently closed, Sorry our website is closed at the moment. Please contact us via telephone 01782698282. Thank you.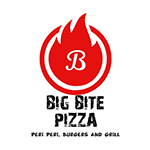 Welcome to
Big Bite Pizza
where we aim to provide a professional service in the fast food industry.
With over 20 years in the trade we can comfortably say that we have the know how, to handle prepare and serve delicious food everytime all the time.
Ordering online is easy and there are always great deals on offer.
Why not try our online ordering system tonight.
Please leave any feedback that you may have on your experience with us.